Note: Follow me on Twitter for more regular updates.
9/29/09
12:49 PM List of impassable roads as of today. Here's an Unofficial Database of People Still Missing.
12:37 PM Commission on Higher Education announced classes suspended at all levels, private & public schools until Saturday in NCR, other areas under state of calamity.
11:44 AM The Ondoy Manila disaster map has been massively expanded to include provinces outside Metro Manila. Help out by filling out the Map Update Form (for those maintaining the map, perhaps it's time to color code past/ongoing events).
So many heroes. So many victims. There is growing awareness of the necessity of knowing which bank accounts, etc. are verified, so that donations aren't diverted to fraudulent ends. Check the Online Donations Options page for a list of verified bank accounts (domestic and international).
There are Filipinos abroad, in particular, who may not have much cash but are willing to gather relief goods if there's a way to send the stuff home. Please get in touch with the nearest Philippine embassy or consulate first! There is the unfortunate but distinct possibility relief goods you send home would be intercepted by the Bureau of Customs and either impounded or taxed!
Please review the Philippine National Red Cross' advisory concerning donations of goods/items for relief:
1. Send a letter of intent to donate to the PNRC 2. A letter of acceptance from PNRC shall be sent back to the donor 3. Immediately after shipping the goods, please send the (a) original Deed of Donation, (b) copy of packing list and (c) original Airway Bill for air shipments or Bill of Lading for sea shipments to The Philippine National Red Cross National Headquarters c/o Secretary General Corazon Alma de Leon, Bonifacio Drive, Port Area, Manila 2803, Philippines.
A similar process might be required even if you just want to send relief goods to your neighborhood, home town or province. I understand in some cases embassy/consulate officials have told Filipinos abroad they don't want the hassle of dealing with relief goods, send money instead. You may want to do that, but also, please consider that it might take too long to send actual relief goods right now, anyway: actual goods required might be for schools, institutions, when the rebuilding begins.
Early this morning news came that the government, through the National Disaster Coordinating Council, has formally asked the internationally community for help, particularly in light of more storms to come. This will allow foreign governments to send assistance, something they couldn't do without a formal request from the government. You can keep track of news by bookmarking The Philippines Needs Your Help.
You may think the title of that blog is alarmist but it's true. Cotabato City, Mindanao, has been flooded since June of this year. Emergency funds are running out precisely at a time the government has to earmark funds for Metro Manila relief.
2:20 AM Operation Tulong Bayan is in need of volunteer doctors, nurses, and allied medical practitioners for medical missions to commence this Saturday. They also need free medicines. Please contact Jig Abella at 09202030170, Expo Centro, besides Farmers Market, Araneta Center, Cubao, QC. It's between MRT Cubao Station and P. Tuazon, along EDSA.
1 AM Here's a handy map of Metro Manila drop off points for donations. For people with Amazon accounts, here's an effort to receive at least $500 in pledges by 8:49 AM EST September 30.
9/28/09
11:49 PM As floodwaters drain from the metropolis, news is Bulacan towns are getting flooded from the runoff. Laguna Province remains hard-hit by flooding. Meanwhile, Cebu is gearing up to help out in a big way. Citizens in the Visayas and Mindanao are also engaging in fundraising and gathering relief goods to send to Metro Manila.
As local communities in Metro Manila recover, they're pitching in to help other areas. See Superbianca for details. I've taken the liberty of including information from her blog, below, especially for those in Australia, etc. interested in helping out.
Globe Telecoms has waived the transaction fee for donations via SMS to the Philippine National Red Cross. Philippine Air Lines has committed to transporting relief goods to Manila from other parts of the Philippines free of charge.
1:18 PM Report profiteers! Tonyo Cruz reports Generic Doxycycline 100mg caps for anti-leptospirosis prophylaxis last Friday P2/cap. Today P5-P10/cap at boticas across PGH
1 PM: Aggregated info can be found at http://www.typhoonondoy.org and http://www.ondoyrelief.org
Operation TULONG BAYAN Priority Message Monday, 28 September 2009
Heartfelt thanks to those who have so far volunteered their time and muscle! Our work is far from over, we hope you will continue to volunteer in the coming days as most drives like this lose their 'pull' quickly. We also profusely thank the individuals and companies that have donated so much to our relief drive and pray that they and many others will continue to keep the donations coming in.
WHERE WE ARE:
CUBAO - Cubao Expo Centro, EDSA corner Gen. MacArthur, Araneta Center (the old Seafood Market)
MAKATI - White Space, Pasong Tamo Extension (close to Cantinetta Resto and BMW showroom)
HOTLINES:
Cubao - 913-7122; 913-6254; 913-3306; 0908-657-9998
Makati - 710-8804; Rosanna 0917-830-5053 HOURS OF OPERATION: 8:00AM - 9:00PM
Daily ANNOUNCEMENTS:
As of Saturday, 26 September, all Piso Piso Para kay Noynoy and Mar donations have been earmarked for Tulong Bayan relief operationsOn Sunday, 27 September, we distributed over 2100 relief packages to three communities within Metro Manila and today, 28 September, are in the process of loading our trucks with over 3000 packs to be distributed to prioritized communities.
We are in need of the following items that can be delivered to Cubao Expo or White Space as soon as possible:
Rice Sardines in tetra packs mongo beans sugar dried fish salt cooking oil in sachets bottled water candles matches detergent soap tarpaulin sheets 5-10meters per sheet (for shelter) used cardboard or cartons (for bedding) slippers clothing blankets
We will be accepting these donations, hopefully in bulk, throughout the week, and thank you in advance. Our brothers and sisters are in desperate need, please help as much as you can!
Those that wish to donate money can please deposit to the following accounts specially earmarked for the victims of Typhoon Ondoy: Payable to CORPORATE NETWORK FOR DISASTER RESPONSE
BDO Galleria Branch, ADB Avenue, Ortigas Center, Savings Account 004640030358
BPI Ayala Paseo Branch, Current Account 0031065402
Once again, thank you for your help, we look forward to seeing you and accepting your donations very soon! Operation Tulong Bayan Volunteers!
12PM Urgent Message concerning more rains. From UP Councilor Bong Ong, here's the standard relief pack:
In a heavy plastic bag:
2 canned goods(sardines, pork and beans, vienna sausages, etc.)
2 packs instant noodles
1 loaf of bread or 8 packs biscuits
1 liter water
Help the relief operations by prepurchasing/prepacking these packs and donating where needed. Call/contact ORCA which is composed of volunteers who will come and collect your donations. you may want to organize a similar effort within your neighborhood/community.
10AM: Regions III and IV-A are also badly hit from accounts tricking in; relief operations will have to be greatly expanded. The first wave of volunteers and rescue workers are reaching the limits of their endurance and more volunteers and workers will be required. The Red Cross and other aid organizations are asking people to focus on donating relief goods as staffing requirements seem to be well in hand.
Volunteers from around the world are expanding and maintaining, with the support of Google, OndoyManila, consolidating the efforts that began with Ondoy map for Marikina and Rescue Hub Info Central. Please consider lending a hand, specially if you know GoogleMaps, to help expand coverage to other devastated areas of Luzon.
While your memory is still fresh, please make a checklist or put down notes on your experiences getting information, or how rescue and relief reached your area. One big shortcoming of our institutions is the lack of a proper post mortem after emergencies like this one, with an eye to improving things and helping authorities and citizens work together. In particular, there are concerns the many help lines were, in fact, practically useless, and also, that over-reliance on cellphone communications may have hampered things. Either leave a comment here or make a blog post if you can, to help collate information on these and other issues.
9/27/09
2 AM : Updated information by freely borrowing latest update from Bury Me in This Dress.
9/26/09
6 PM : There are also updates at Random Salt and Sour Politics. Also, a list of impassable roads. If you are an IT professional or student, please consider helping with the Sahana FOSS Disaster Management System. The estimate of the authorities as of late afternoon, September 27, is that 25% of the metropolis remains submerged. People are still trapped on the roofs of their houses or in the 2nd or 3rd stories of buildings; there remains a crucial shortage of boats and inflatable craft; donations of bottled water, canned goods, cooking oil, salt, bedding (sheets, blankets, sleeping mats) and clothing are direly needed.
Rescue Operations
National Disaster Coordinating Council (NDCC) (+632-9125668, +632-9111406, +632-9115061, +632-9122665) Help hotlines: (+65 734-2118, 734-2120) ndcchelpdesk@gmail.com
Philippine Coast Guard (+632-5276136)
Air Force (+63908-1126976, +632-8535023)
Metro Manila Development Authority (136)
Marikina City Rescue (+632-6462436, +632-6462423, +632920-9072902). To check for missing relatives call Marikina City Hall 646-1634 or 646-2360.
Pasig Rescue Emergency Number (+632-6310099); Pasig Mayor Eusebio gave his cel number for urgent messages of help and rescue : 09189275074
Quezon City Rescue (161)
San Juan City Hall Command Post (+632-4681697)
Bureau of Fire Protection Region III (Central Luzon) Hotline: (+63245-9634376)
Senator Dick Gordon (+639178997898, +63938-444BOYS, +632-9342118, +632-4338528)
Senator Manny Villar (+639174226800. +639172414864, +639276751981)
Civil Society/ Media
Philippine National Red Cross (143, +632-5270000)
Philippine National Red Cross Rizal Chapter operations center hotline: (+632-6350922, +632-6347824)
Go to GMA Facebook page & post complete addresses and names of people in need of immediate help.
The Philippine Daily Inquirer is launching a relief drive for the victims of Tropical Storm "Ondoy," in partnership with the Philippine National Red Cross, Ronald McDonald House Charities, Assisi Foundation and the Sagip Buhay Foundation. Donations in kind, such as instant noodles, canned goods, formula milk, blankets and clothes, are urgently needed.
These may be brought to the Inquirer office at 1098 Chino Roces Ave. corner Mascardo and Yague Streets, Makati City, and to any of its classified ads branches, and to any McDonald's branch within Metro Manila. For questions and other concerns, please call 8978808 loc. 260 and look for Megi Garcia.
ABS-CBN Typhoon Ondoy Hotline: (+632-4163641)
Jam 88.3: (+632- 6318803) or SMS at JAM (space) 883 (space) your message to 2968
GMA Kapuso Helpline: (+632-9811950-59)
Sahana Disaster Management System needs IT volunteers. http://sahana.kahelos.org. Email sahana@kahelos.org.
Makati Medical Center (MMC), Cardinal Santos Medical Center and PLDT of the Metro Pacific Group of Companies will be conducting a week-long medical mission in areas adversely affected by Typhoon Ondoy.
Makati Medical Center will cover the Cainta/Rizal area, Cardinal Santos Medical Center will handle the Pasig area and PLDT will assist the Marikina area. Doctors and personnel will be deployed to provide consultations and distribute medicines at designated evacuation center in these areas.
MakatiMed's Health Services Program (HSP) center, located at the ground floor of the hospital, will be open 24/7 this entire week to assist typhoon victims.
To become a volunteer, please submit your name and contact details to Dr. Victor Gisbert at 0917-8922807 or Dr. Johnny Sinon at 0917-5261345.
For donations, in cash or in kind, please send your contributions to Ms. Jocelyn or Ms. Fatima at the Social Services Office, Ground Floor, MakatiMed, Amorsolo St., Makati or call 8888-999 locals 7124 and 7104.
Rubber Boat, 4×4 Trucks, Chopper Requests
NCRPO (+632-8383203, +632-8383354)
Private citizens who would like to lend their motor boats for rescue please call emergency nos: +632-9125668, +632-9111406, +632-9122665, +632-9115061)
You can also text (+632917-4226800 or +632927-6751981) for rescue dump trucks.
For those who are able to lend 4×4 trucks for rescue: Please send truck to Greenhills Shoppng Center Unimart Grocery to await deployment, Tel No. (+632920-9072902).
Petron & San Miguel Corporation are lending choppers for rescue operations, call/text: (+632917-8140655) ask for Lydia Ragasa
Power Supply
Meralco (+63917-5592824, 16211, +63920-9292824) If you want service cut off to your area to prevent fires and electrocution.
Relief Aid and Donations
URGENT:
Donations of heavy duty flashlights needed for rescue operations in Cainta area. Contact Cielo at (+632918-8824356)
Businesses/ Commercial Establishments
Aranaz Stores in Rockwell & Greenbelt is accepting donations of any kind for Payatas communities affected by Ondoy
Aunt Genie's Breadhouse in Cebu - 1279 Talamban, Cebu City In front of the Talamban Sports Complex - drop off point Binalot at Greenbelt 1, call Tetchie Bundalian at (+632922-8573277)
Brainbeam Events, Inc. 2/F MB Aguirre Cornerhs Bldg,15 Pres Ave cor Elizalde Sts, BF Homes Pque across the old Caltex in BF. Will accept relief goods.
The Coffee Bean & Tea Leaf will be accepting canned goods, water, clothes, blankets, towels, medicine, and emergency supplies (no cash) in all our branches on behalf of the victims of Typhoon Ondoy starting today until Friday. Your generosity will be much appreciated during this difficult time for our brothers and sisters in need.
Every Nation, FORT will accept donations for Red Cross esp. purified water, canned goods, and infant formula. Location @ 32nd St cor University Pkwy across Market Market.
Junior Chamber International Manila Baypark Tent, Roxas Blvd. will accept goods starting Monday.
Luca stores (Rockwell, Shang-rila, Eastwood, or GA towers): Send your old clothes & donations (no cash pls).
Manor Superclub, Eastwood City will accept goods and other emergency items starting Sunday at 10 am.
Ministop IBARRA (Espana cor. Blumentritt, Sampaloc Manila) is also accepting relief goods, Food (non-perishable goods only) Clothing, Medicines, Beds, Pillows, Blankets, Emergency Supplies to help Typhoon Ondoy victims.
Moonshine boutique in Rockwell also accepting relief good to help Ondoy victims in Marikina and Cainta.
Myron's Greenbelt will accept relief goods
Papemelroti stores in 91 Roces Ave. / Ali Mall Cubao / SM City North EDSA / SM Fairview / SM Megamall / Glorietta 3 in Makati / SM Centerpoint / SM Southmall are accepting relief goods (canned goods / milk / bottled water / clothes NO CASH pls.)
PowerPlant Mall accepting donations for ABS-CBN foundation. Dropoff at admin office, P1 level.
R.O.X. Recreational Outdoor eXchange is accepting donation for relief good for Typhoon Ondoy victims. You can bring it in the store located in B1 building Bonifacio High St., Tel. No. (+632-8564638/39)
Shell gas stations - drop off point
Total gas stations- drop off point for relief goods. Petron - drop off point for relief goods.
Team Manila stores in Trinoma, Mall of Asia, Jupiter Bel-Air and Rockwell shall be accepting relief goods (Canned Goods, Ready-to-drink Milk,Bottled Water and Clothes) for distribution by Veritas.
Whitespace 2314 Chino Roces Ave Ext as a Makati drop-off for relief goods. Jollibee branches in Metro Manila - drop off point for relief goods.
McDonald's branches in Metro Manila - drop off point for relief goods.
Government/ Civil Society/ Movements
Operation Tulong Relief Operations: Clare Amador (+639285205508) or Jana Vicente at +639285205499). Drop off for relief donations is at Balay Expo Center across Farmers Market Cubao. e operational again tomorrow, 8:00am, at the following hubs: Cubao - Cubao Expo Centro (the old Seafood Resto), EDSA corner Gen. MacArthur, Araneta Center, QC. Makati - White Space, Pasong Tamo Ext., Makati (near BMW). We urge students to come and help. We need candles, matches, clothes, blankets, salt, cooking oil (in sachets). Please spread! Thanks!
People can now seek financial help and assistance from PAG-IBIG Fund: Call 724-4244.
In Cebu City, PLAN ONDOY now mobilized by the Rotary Clubs in Cebu. Drop off centers in Cebu: Julie's Bakeshops, Andorra Tiles office.
Victory Fort is opening its doors to those affected by the typhoon. Call 813-FORT.
ABS-CBN through Banco de Oro account number 56300-20111 account name: ABS-CBN Foundation Incorporation Akbayan's taking donations, call 433-69-33/433-68-31 to donate or volunteer.
Citizens Disaster Response Center (CDRC): Relief goods for typhoon victims being accepted at 72-A Times St., West Triangle, QC. Tel (+632-9299820/22)
Corporate Network for Disaster Reponse bank account no. 0031 0654 02 BPI Ayala Paseo Branch for cash donations Sen. Kiko Pangilinan is accepting donations @ AGS Bldg Annex, 446 EDSA Guadalupe Viejo. Contact Vina Vargas at (+632917-8081247)
Kabataan Partylist - Drop off donations or volunteer at 118-B Sct. Rallos QC. 09266677163 or kabataanpartylist@gmail.com
Luzon Relief: Donations can be brought to RENAISSANCE FITNESS CENTER, 2nd Floor, Bramante Building, Renaissance Towers Ortigas, Meralco Avenue, Pasig City starting MONDAY (Sept.28) / 9am 7pm Contact Person: Warren Habaluyas (+632929-8713488) or email at luzonrelief@gmail.com
Miriam Quiambao drop off point: One Orchard Road Building in Eastwood, or message http://www.twitter.com/miriamq for more details.
Move for Chiz is asking for volunteers and donations at Bay Park Tent, along Roxas Blvd., beside Max Restaurant and Diamond Hotel in Manila, or at Gilas Minipark at Unang Hakbang St., Gilas Q.C.
Operation Rainbow (Zac Faelnar Camara) at Ayala Alabang Village needs Canned Goods, Ready-To-Eat Food, Bottled Water, Ready-To-Drink Milk/ Juice, Clothing, Blankets, contact (+632-4687991)
Philippine Army Gym inside Fort Bonifacio or GHQ Gym in Camp Aguinaldo are now distributing donations for Ondoy Victims.
Relief Efforts for Pasig at Valle Verde 1 Village Park, contact (+632916-4945000, +632917-5273616) Relief Operations Center at AGS Annex, #446 EDSA Guadalupe Viejo after PET Tower contact Ares at 0917.855.4935 or Rachel at 0918.924.1636
Sagip Kapamilya hotlines (+632-4132667, +632-4160387) #13 Examiner St. West Triangle, QC. and Scout Mayoran, cor. Morato, near Alex III.
Tulong Bayan hotlines for donations and volunteers are (+632908-6579998) Marilyn, (+632939-3633436) Jenn (+632-9137122, +632-9136254 & +632-9133306). e operational again tomorrow, 8:00am, at the following hubs: Cubao - Cubao Expo Centro (the old Seafood Resto), EDSA corner Gen. MacArthur, Araneta Center, QC. Makati - White Space, Pasong Tamo Ext., Makati (near BMW). We urge students to come and help. We need candles, matches, clothes, blankets, salt, cooking oil (in sachets). Please spread! Thanks!
TXTPower now accepts donations via SmartMoney 5577514418667103, GCash 09179751092 and Paypal http://is.gd/3GvuN
World Vision partners with Phil Coast Guard and kind individuals for relief distribution to 3k families. Call (+632-3747618 local 242) or text (+632917-8623209) to help.
Worldvision Foundation is also accepting donations/volunteers to pack relief goods in QC. For $-donations, BPI:USDacct #4254-0050-08
Religious/ Schools & Universities
Assumption College San Lorenzo is now accepting donations. Please drop them off at the AC guardhouse.
Ateneo de Manila University is now accepting donations for the victims of Ondoy. Donations can be dropped at MVP Lobby. For those stranded/those who need help: To all students who need help or know of people who need help. Please text the name, location, and contact number to (+6329088877166). ATENEO, which is now an open shelter, accepts refugees. Call (+632917-8952792)
Caritas Manila Office at Jesus St., Pandacan Manila near Nagtahan Bridge (+632-5639298, +632-5639308) CCF St Francis Mall, Ortigas is now accepting goods for donation.
CFC Center Ortigas is now open for donations in cash or kind. Call (+632-7270682 to 87) or text (+632922-2542819) De La Salle University-Manila - The Sagip Metro relief operation will start to accept donation for Ondoy victims starting Monday @ 8:30 am. Please bring goods to the South Gate of DLSU-Manila.
De La Salle Zobel will be accepting donations tomorrow at Gym 5 (Near Gate 7 in Molave St.)
DLSU Medical Center will accept canned goods, blankets, clothes, water. Location is at Congressional Avenue, Dasmarinas, Cavite. Telephone lines are at(02) 844-7832 and (046) 416-4531
Hillsborough Village Chapel: Water, blankets, shoes, and clothes may be sent to Hillsborough Village Chapel in Muntinlupa City. These will go to families whose houses were washed out in the nearby sitios.
La Salle Greenhills for Greenhills/Mandaluyong/San Juan Area, if you want to help out with the rescue and relief operations, you can drop off your donations (clothes, food, etc..) at LSGH Gate 2 or volunteer from 9am to receive, sort, repack the donations.
Our Lady of Pentecost Parish (+632-4342397, +632-9290665) per Gabe Mercado, donations are very much welcome. The Parish is located at 12 F. Dela Rosa corner C. Salvador Sts., Loyola Heights, Quezon City.
Playschool International in Better Living is open to receive relief goods. Feel free to drop it there for your convenience. No Cash Pls.
Radio Veritas at Veritas Tower West Ave. Cor EDSA (+632-9257931-40)
Simbahang Lingkod ng Bayan Task Force Noah, a disaster response arm of the Jesuits, is accepting donations. Please drop it off sa Ateneo Cervini Dorm.
St. James Church Multi-Purpose Hall - Drop off point
St. Pedro Poveda College is now accepting relief goods. call the Social Action Center 6318756 loc. 121
UA&P Please contact Dae Lee [SEB EVP] @ 09178323533 needs donations and volunteers.
UP College of Arts and Letters (CAL) is accepting goods and cash. Donation center at CAL/text 0929-6454102.
UP Diliman USC is collecting food, clothing and/or cash. Contact TITUS 09178001909, JOSE 09273056607 and TIN 09154906106
Katipunan Avenue. Contact Erica Paredes at (+632917-4741930) they need bread, packed juice, sandwich filling (tuna, chicken, anything) You can help her make them, deliver the sandwiches to her house, or help her distribute! Call for more details. Xavier School in San Juan is now accepting donations, please bring to Multipurpose Center (MPC).
Private Citizens
MAKATI:
5729 Calasanz St., Olympia Makati City or call for pick up at (+632-5017405 or +632-7290530) c/o Omel Santos
SOUTH:
Accepting relief goods in SOUTH AREA. Please contact Anne at (+632915-2854240)
Karen Ang 3 Kagandahan corner Kabutihan Streets, Kawilihan Village, Pasig 0920-9520900 Will forward donated relief goods to Red Cross
PROVINCIAL DONATION/RELIEF CENTERS:
BAGUIO:
donations can be dropped off at the ABSCBN Baguio Office

donations are also accepted at the Baguio Convention Center Executive Room from 10am til 4pm starting tomorrow til Friday. Volunteers are urged to come.

Organizing a soup kitchen. Baguio donating vegetables to arrive via Victory Liner. Contact Dave at 09178396179.
BULACAN:
Red Cross Bulacan accepts donations. It is located in Malolos Bulacan, near Bulacan capitol
CAGAYAN:
send your donations to the kkp office in xavier university, ATENEO DE CAGAYAN.
CAVITE:
DLSU-Dasmarinas is also accepting donations, pls proceed to the 2nd floor of SBC Building
BATANGAS:
DE LA SALLE LIPA is now accepting your donations, drop off point is at the college lobby.
CEBU:
BACOLOD:
For your donations, drop off center is at the Coliseum in the University of St. La Salle. 435-3857

CAFE BREIZH wil be a drop off center for donations. text 09193651101 for details.
DAVAO:
ATENEO DE DAVAO is accepting in kind donations for ondoy. drop off at the samahan office in jacinto campus.

BANTAY BATA 163 davao located at matina,davao city is also a drop off point for any in-kind donations.
ZAMBOANGA:
ATENEO DE ZAMBOANGA is accepting donations. You may bring them to the SACSI office. Look for Alma Curesma, 991-0871, loc 2224 or 2225.
People Tracker (using your phones, get your friends and family to turn on their finderservice for you)
FINDERSERVICE. For Smart, text wis <your name> <your mobile> to 386. FINDERSERVICE. For Globe, text find <your name> <your mobile> to 7000. E-Donations
Helping the Red Cross
Red Cross Load Donations: Right now the easiest way to make donations from the seat of your chair is via mobile phone load. The Red Cross Rescue and Relief Operations. Text: RED<space>AMOUNT to 2899 (Globe) or 4483 (Smart)
SMS: text RED to 2899 (Globe) and 4483 (Smart) G-Cash: text DONATEAMOUNT4-digit M-PINREDCROSS to 2882 TXTPOWER.org: Paypal, Smart Money (5577-5144-1866-7103), G-Cash (0917-9751092) funds collected will be given to the Philippine National Red Cross
Please send cash or check donations to the PNRC National Headquarters in Manila. Checks should be made payable to The Philippine National Red Cross. They can arrange for donation pick-up.
METROBANK Port Area Branch Peso Acct.: 151-3-041-63122-8 Dollar Acct.: 151-2-151-00218-2 Type of Acct. : SAVINGS Swift Code: MBTC PH MM BANK OF THE PHIL. ISLANDS Port Area Branch Peso Acct.: 4991-0010-99 Type of Account: CURRENT BANK OF THE PHIL. ISLANDS UN Branch Dollar Acct.: 8114-0030-94 Type of Account: SAVINGS Swift Code: BOPI PH MM
Note: For your donations to be properly acknowledged, please fax the bank transaction slip at nos. +63.2.527.0575 or +63.2.404.0979 with your name, address and contact number.
For Credit Cards: Please fax the following info to +632.404.09.79 and +632.527.0575: Name of card member, billing address, contact nos. (phone & mobile), credit card no., expiration date, CCV2/ CVC2 (last three digits at the back of the credit card), billing address, amount to be donated. For online donations you may also visit our website at www.redcross.org.ph .
Most urgent needs
Food items: Rice, noodles, canned goods, sugar, iodized salt, cooking oil, monggo beans and potable water Medicines: Paracetamol, antibiotics, analgesic, oral rehydration salts, multivitamins and medications to treat diarrheal diseases
Non-food items: Bath soaps, face towels, shampoo, toothbrush, toothpaste, plastic mats, blankets, mosquito nets, jerry cans, water containers, water purification tablets, plastic sheetings, and Laundry soap
FOR THOSE OUTSIDE THE COUNTRY WHO WANT TO DONATE:
TXTPower.org has set up a paypal account for donations. Your money will be forwarded to Red Cross. Kapuso Foundation is also accepting credit card donations. 2/F GMA Kapuso Center Samar St. cor. 11th Jamboree St. Diliman, Quezon City Call 9827777 loc. 9901/9904/9905. accepts relief goods and cash
for those in SYDNEY, AUSTRALIA:
You can deliver relief goods to 303/5 Stromboli Strait, Homebush Bay 2127. You can also contact through Twitter at @allorange if you want to arrange for a pick up in the city.
for those in TORONTO, CANADA:
Pinoys in Toronto are spearheading efforts to help, visit this website for details.
for anyone in the UNITED STATES:
In Kind donations
LOCAL:
Please send in-kind local donations to The Philippine National Red Cross National Headquarters in Manila. They could also arrange for donation pick-up.
INTERNATIONAL:
Send a letter of intent to donate to the PNRC
A letter of acceptance from PNRC shall be sent back to the donor
Immediately after shipping the goods, please send the (a) original Deed of Donation, (b) copy of packing list and (c) original Airway Bill for air shipments or Bill of Lading for sea shipments to The Philippine National Red Cross National Headquarters c/o Secretary General Corazon Alma de Leon, Bonifacio Drive, Port Area, Manila 2803, Philippines.
9/26/09
The news is grim. People on their roofs, people losing their homes, loved ones separated, refugees everywhere, the most recent report is 5,000 people stuck in the Trinoma Mall in Quezon City. I have yet to confirm this but have heard this is the worst deluge since 1967; PAGASA reported that in three hours, as much rain as normally falls in two weeks soaked the Metropolis. Reports from the rest of Luzon -with most of Luzon's provinces, including the National Capital Region placed under a State of Calamity by the President- are only now trickling in. Rescue and relief efforts over the years have gotten increasingly efficient, but this is one of those events that happen so suddenly, no one can possibly prepare for it.
Fellow bloggers may want to help on collating specific types of information they encounter online: appeals for rescue, traffic/flood updates, places to send relief goods, power failures, etc. This allows relief workers and media to focus on who needs help, while avoiding the risk that the ones who get rescued are those whose appeals are reTweeted most often, while others asking for help get overlooked, for example.
You will be a big help by collating information because relief/rescue workers and media can then periodically refer to your blogs to help evaluate what's going on and what still needs to be done. Numbers are being collated here and in Sour Politics and Random Salt.
At a time like this, there is so much human compassion and so much frustration, too. So even if it's by means of this small, online way, we can all pitch in.
See entries in Teacher Ria, in dvdtymo, Philippine Technology Blog, etc.
Some photos/videos shared by people online:
( Park 9 Alley, where the Barangay Hall of Loyola Heights is located)
(above: underpass along Ayala Avenue, Makati City)
( Burgos Circle at Fort Bonifacio)
(above: Katipunan Avenue, Quezon City)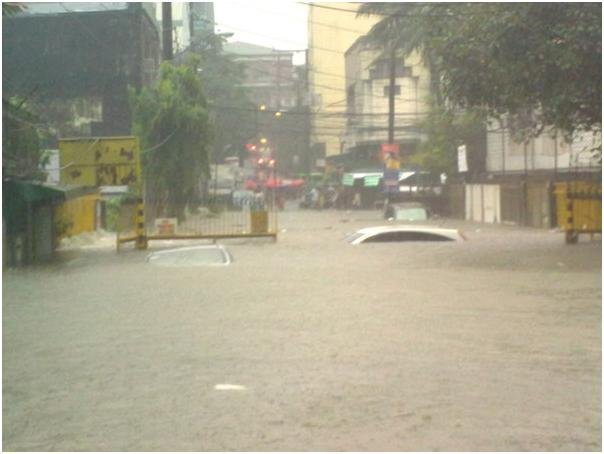 (above: Gen. de Jesus St. between Xavier and Jo-Liza, Little Baguio, San Juan City)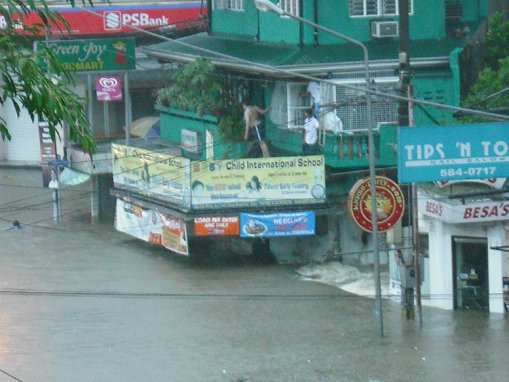 (Wilson Street, Greenhills, San Juan City)
(Taft Avenue, Manila)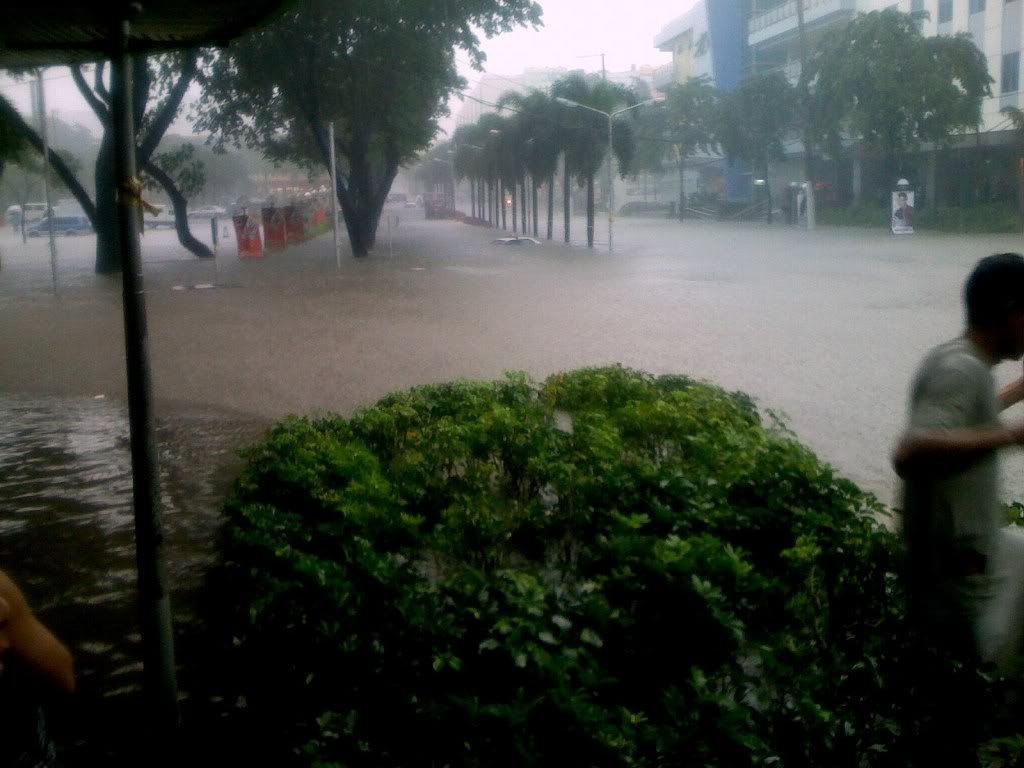 (Araneta Center, Cubao, Quezon City)