By Alex Villafania INQUIRER.net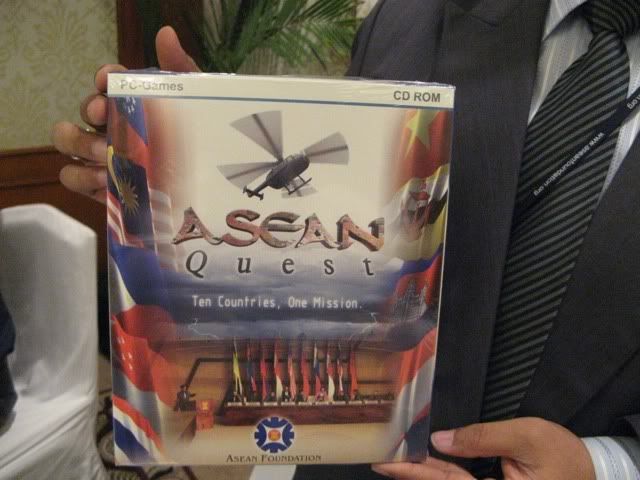 THE ASSOCIATION of Southeast Asian Nation Foundation (AF) is set to launch in July a PC game that aims to provide a fun learning activity to the youth and give them useful information on the 10 member countries of the ASEAN. AF executive director Filemon Uriarte Jr. presented the
ASEAN Quest
game during a memorandum of agreement signing between the AF and the Department of Science and Technology (DOST) in Makati City. Uriarte showed a box version of the game as well as the opening cut scene. Uriarte described
ASEAN Quest
as primarily a single-player role-playing game where players have to navigate through several, albeit short, levels. There are portions of real-time strategy, trivia, a spy game and even a "build" game. Much of the game focuses on the cultural nuances of the 10 member countries of the ASEAN. Some of the mini-games are patterned after some of the popular PC games such as
Tomb Raider
,
Final Fantasy
,
Warcraft
and
StarCraft
. However, the difference is that there is no indication of violence in
ASEAN Quest
. De La Salle University was tapped to develop the game and was awarded a $90,000 grant in 2007 for the project. The game will be launched during the upcoming ASEAN Youth Science Summit, which will be part of the National Science and Technology Week from July 1 to 11. A gaming competition featuring
ASEAN Quest
for the participants and delegates will be held during the Youth Science Summit. Uriarte said the commercial price of the game could reach between P300 and P500.