We've been fooled! Long have I been trying out cleansing solutions that cost an arm and a leg, that guarantee to clean any piecec of technology in a jiffy. The latest one I tried was that two-piece plastic sachet with a solution allegedly composed of 90% Steve Jobb's sweat.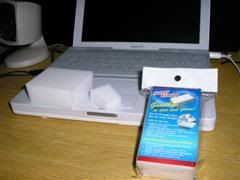 However, my friend recommended this really great cleaning solution that REALLY CLEANS my iBook. Now, from a depressing mother-of-pearl color, it is now back to pristine Apple(TM) white! You can buy the
Mr. Clean Magic Super Eraser
(names vary in international market) from any True Value branch. I just got mine yesterday from Shangri-La mall but I hear the one in Parksquare has a ton of em lying around too. One of these magic erasers will cost you P49.75, which should be cut into strips to make efficient use of space.
All I did was cut a half inch strip off and soaked it in water. After squezing the water out, I began to wipe my iBook, charger, Coolpad, mouse, and then my microwave oven. By golly! It really cleans, just like those infomercials we see on TV - except that this time, there are no camea tricks! One swipe does a very good job! Read user testimonials
here!!
Another reason why I know this stuff works? My mom got hooked on a cleaning spree after I gave her one pack.