Sharing your loved tunes is no problem nowadays with all the portable speakers and audio solutions available in the market that supports a variety of digital audio players, but what about videos? For the most part, user had to encode and burn it to a CD for it to be played on DVD players which is very cumbersome considering the length of time it takes to do both tasks.
It's a good thing that the guys at SanDisk came up with this very nifty and portable solution. Just by click-and-dragging your files to the USB proponent of their new TakeTV, you are now done with the most tedious part of the entire process.
A cradle for hook up to a TV is just waiting for the USB to be plugged in for you to start enjoying all your saved media files. The TakeTV supports DivX, xVid and MPEG-4 video formats and has a maximum resolution of 720x576 (D1) with a bitrate of up to 7 Mbps. 4:3 and 16:9 aspect ratio are both supported as well. It even comes with a remote for complete wireless control.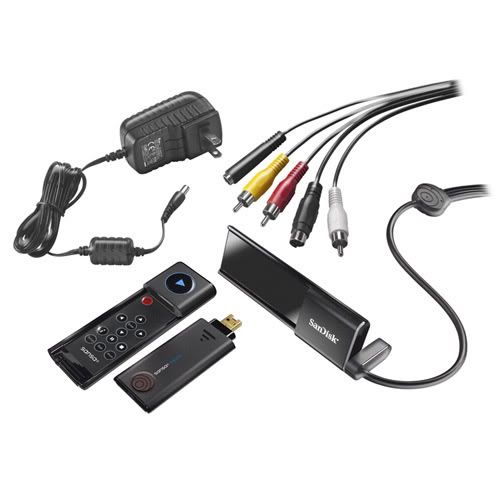 With the SanDisk TakeTV, you can now say goodbye to those encoding days and say hello to hassle-free video sharing on the fly. For some hands-on impressions, the lucky guys at Engadget share their views on thise device.