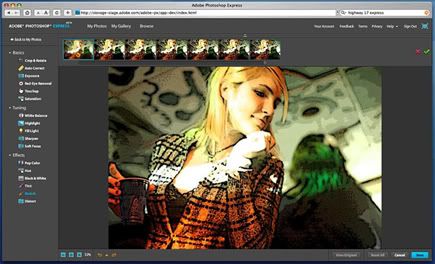 The online version of
Photoshop
has finally gone live. Dubbed as
Photoshop Express
, we
reported
about its existence before, but it's only now that it has become accessible to the public.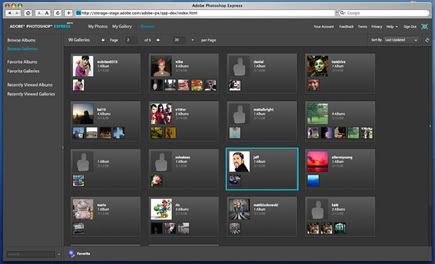 Unfortunately, it's still in the
beta phase
so its
not 100 % glitch free
and users like us in the
Philippines
residing
outside the US
will
suffer the greater bulk of the problem
.
Adobe
warns that while the site maybe accessible,
access speeds
is greatly 
reduced
if you are
not in the US
, but once everything gets the stamp of approval for the green signal, international users shouldn't worry so much. The site, of course, is nothing compared to the
full retail version of Photoshop
, but it's a nice alternative when you don't have access to your home computer. It's
free
and is
compatible with most web browsers
just as long as you're running the
latest version of Adobe Flash 9
. Screenshots are all courtesty of
Gizmodo
.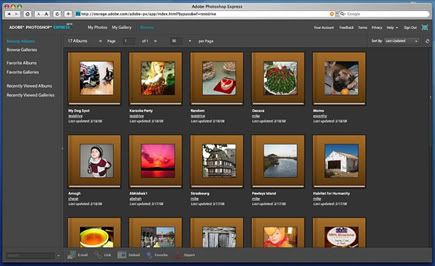 For my part, I was able to
register
and
create an account
that comes with
2 GB of online storage
after minutes of waiting for their page to load. After doing that, the wait becomes even longer when making use of the other features such as
uploading photos
which is basically the
first step
in utilizing the various functions of the site. A bit of a advice for would-be users of the site, a
fast internet connection
is
recommended
, but if you wish to take advantage of the full site, I think its best to wait until the final version is out.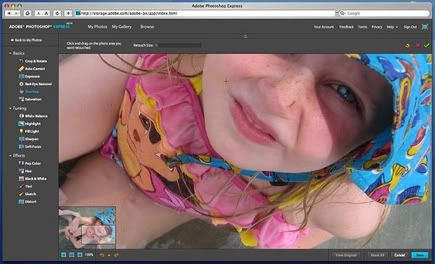 On a similar note,
Photobucket
recently updated their editing tools which make it a more viable option for now when it comes to online image storage solutions. It allows
free 1 GB storage capacity
for both
images and videos
and incorporates some useful photo enhancing features as well. It's no Photoshop, but at least it works in our part of the world.