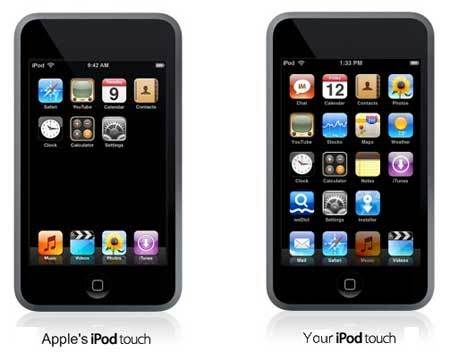 Here's a first-person recounting (mine) of an
iPod Touch
being liberated via
iJailbreak
:
Download the app. (See link in previous post)
Put the download into your Applications folder. (M ake an iJailbreak folder there and dump the app and Resources folder in it.)
Run the app. There'll be two buttons: Jailbreak an d Install iPhone Apps. Choose Jailbreak. As of now the other o ne doesn't work.
Get your iPod onto the net and use Safari to go to http://jailbreak.toc2rta.com. Safari will crash - that's ok. Connect it to your computer. iTunes will then declare that your iPod n ow has a capacity of 265mb. It will contain 240.7mb of "Other" files, and just have 24.4mb free. Do not panic. This is part of it.
Click on OK in the iJailbreak window. It will take anywhere from 10 to 15 mins to run, and then it will tell you to physically turn the iPod off b y holding the Sleep/Wake button down and using the red slider to turn it off. li>
Turn it on again by pressing the Sleep/Wake button.
After it completely restarts, turn it off again. Then on again. Dur ing this process it installs Springboard.
Then turn it off again. Then on again.
Tired of you doing it, it will turn off and on by itself a couple o f times more.
Voila! Prison break.
There will now be an Installer icon on the main me nu. Touch it.
A set of downloadable and directly installable apps will show up. P ick what you like and install them - it's all just at the touch of the Install button. (Your iPod has to be on wifi to get the files , but they're small and quick to load and install.)
After getting your fill, press the hardware button and go back to t he main menu. The iPod will do a quick sleep/wake sequence and the installed ap ps will show up on the main screen. If you don't like what you put in, it's a m atter of running Installer again, pressing the Uninstall tab a nd selecting what you want to kick out.
* If you want more apps, run
Community Sources
and you'll have more apps than you know what to do with. (I counted over fifty additional apps after I did this.) Notes:
If you fill up the first page of the main menu screen, the iPod wil l just add more menu pages you can access with a sideways swipe.
Some of the apps are for the iPhone alone, so see which will work a nd which won't.
Some have prerequisite apps before they can install, like M obileFinder needs the BSD Subsystem, which is a 6.6mb download. Most apps are just a few kb in size.
There are a lot of utilities for advanced users, Summerboar d themes and sound packs, and a few books, among other things in the p ackage.
Installing other iPhone apps will have to be done the hard way for now, as the automated portion for this on iJailbreak is still under constructio n.
I now have a couple of menu pages of apps, including a
Notes
a pp, an encyclopedia/ dictionary/thesaurus, an
eBook
reader, th e
King James Bible
, a
ToDo
app, chat clients, a
Finder
app, the ability to add
Calendar
en tries on the fly, games galore - including my new favorite,
Tap Tap Rev olution
. Who needs an
iPhone
?